Rabbi Teri Appleby joined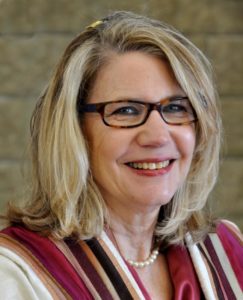 Congregation B'nai Jeshurun, The South Street Temple, as our rabbi on October 1, 2017. Previously, she served as interim rabbi at Mizpah Congregation in Chattanooga, TN (2016-2017), Temple B'nai Tikvah in Calgary, Alberta (2015-2016), Temple Beth Tikvah in Fullerton, CA (2014-2015), and Holy Blossom Temple in Toronto, Ontario (2012-2014); solo rabbi of Temple Sinai in Reno, Nevada (2009-2012); and assistant rabbi at Temple Bat Yahm in Newport Beach, California (2007-2009). As a student, Rabbi Appleby served congregations in Santa Monica, California and Flagstaff, Arizona; she also served as a hospital chaplaincy intern at the UCLA Hospital and Medical Center.
Rabbi Appleby was ordained in 2007 at the Hebrew Union College-Jewish Institute of Religion in Los Angeles, where she received several awards for academic excellence. Her rabbinic project was a text immersion in the Talmud, studying such diverse topics as the keva and kavanah of prayer, resurrection and the after-life, spirits, and dream interpretation. Rabbi Appleby's special interests include the creation of caring communities, social action, and Jewish learning for all ages.
A native of the San Francisco Bay Area, Rabbi Appleby received her BA in Psychology from Stanford University and her Juris Doctor from the University of Southern California Law Center. She worked as a criminal defense attorney with the Los Angeles County Public Defenders Office for six years.
Rabbi Appleby is married to Jonathan Leo, an environmental lawyer and consultant and cantorial soloist. They have two adult sons and four granddaughters (three of whom live in Omaha!) … and a 7-year old Golden Retriever, Milo (the Magnificent).