Peter Mullin is our Office Administrator.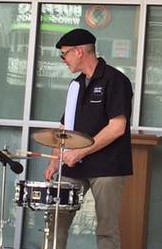 He's usually in the office from 1 to 5 pm, Monday through Friday. Peter came to us from Tabitha, where he helped coordinate the Meals on Wheels program. He is also a research associate in nematology at the University of Nebraska-Lincoln and an editor for the journal Zootaxa.
Peter also is a member of the Temple Choir and the Star City Kochavim. He plays percussion and tinwhistle.