Rabbi Alex Felch
Rabbi Alex Felch was born in Buenos Aires, Argentina and is a graduate of the Hebrew University of Jerusalem, where he specialized in the fields of Bible and the History of the Jewish people. Rabbi Felch was ordained in Buenos Aires at the Conservative Seminario Rabinico Latinoamericano. Has an eclectic rabbinic style that has been shaped by the fact that he has lived in five different countries and has had to interact with people in four different languages and cultures. Rabbi Felch was awarded from the Jewish Theological Seminary the Doctor of Divinity, honoris causa and more recently he became a Senior Rabbinic Fellow at the Shalom Hartman Institute in Jerusalem, Israel. Rabbi Felch served as Senior rabbi in Puerto Rico, Connecticut and Illinois. Currently he is the spiritual leader of the Jewish Community of Lincoln, Nebraska.
Peter Mullin, Office Administrator
Peter's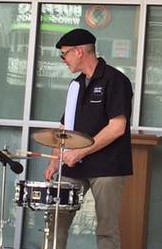 usually in the office from 1 to 5 pm, Monday through Friday. Peter came to us from Tabitha, where he helped coordinate the Meals on Wheels program. He is also a research associate in nematology at the University of Nebraska-Lincoln and an editor for the journal Zootaxa.
Peter also is a member of the Temple Choir and the Star City Kochavim. He plays percussion and tin whistle.
Board of Trustees
Nicholette Seigfreid, President
Dan Senft, Vice President
Elaine Monnier, Treasurer
Julie Moore, Treasurer
Nathaniel Kaup, Immediate Past President
Maria Cadwallader, Trustee
Leslie Delserone, Trustee
Aimee Hyten, Trustee
Anne Rickover, Trustee
Art Zygielbaum, Trustee