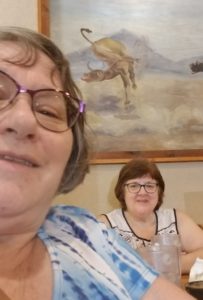 There were five of us at Hiro 88 on December 17. We missed the two who called
in sick and wish them well.
We will meet again on Tuesday, January 21 at Sebastian's Table, 8340
Glynoaks Drive (West of 84th between Pioneers Boulevard and Old Cheney).
Happy Chanukkah and Happy New Year!

---
We've visited a lot of places in the last couple of years:
2019
1/15 Imperial Palace
2/19 Kinja Sushi & Japanese Cuisine
3/19 The Parthenon
4/19 Le Quartier
5/19 & 6/18 Ginger Grill
7/19 Carmela's
8/19 Barb Barron's house
9/19 Hacienda Real
10/19 Daffodil Mediterranean Cuisine
11/19 Copal Progressive Mexican Cuisine
12/19 Hiro 88
2018
1/18 Carmela's
2/18 Grata
3/18 LaPaz
4/18 Char Grille in Hickman
5/18 Hiro 88
6/18 Egg and I Downtown
7/18 Issara
8/18 Screamers
9/18 Korea House
10/16 Korea House
11/20 Kinja
12/18 Hacienda Real
2017
1/17 Carmela's (went to Kinja as Carmela's was closed)
2/17 Misty's in Havelock
3/17 Piedmont Bistro (too loud)
4/17 Parthenon
5/17 The Eatery
6/17 Carmela's
7/17 A St Grata #102
8/17 Carmela's
9/17 Granite City
10/17 La Paz
11/17 Grata
12/17 Issara
2016
7/16 Venue
8/16 Carmela's
9/16 Fuji's (closed) went to Marcia's
10/16 Asian Fusion
11/16 Daffodil
12/16 Tanners