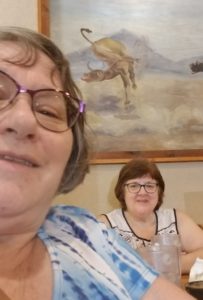 There were 3 of us at Mi Tierra on Tuesday, March 17th.
Since we don't know what the situation will be next month, including
whether restaurants will be open, we will meet on April 21st at 12:00 pm
at Barb Barron's home, 1145 Mockingbird Lane.
We will bring our own take out or food from home. There are many drive
through restaurants nearby including Sultan's Kite, Panera Bread,
Jimmy Johns, etc.
We hope to see you then. Take care of yourselves!
---
We've visited a lot of places in the last couple of years:
2020
1/20 Sebastian's Table
2/20 Napoli's Italian Restaurant
3/20 Mi Tierra
2019
1/19 Imperial Palace
2/19 Kinja Sushi & Japanese Cuisine
3/19 The Parthenon
4/19 Le Quartier
5/19 & 6/18 Ginger Grill
7/19 Carmela's
8/19 Barb Barron's house
9/19 Hacienda Real
10/19 Daffodil Mediterranean Cuisine
11/19 Copal Progressive Mexican Cuisine
12/19 Hiro 88
2018
1/18 Carmela's
2/18 Grata
3/18 LaPaz
4/18 Char Grille in Hickman
5/18 Hiro 88
6/18 Egg and I Downtown
7/18 Issara
8/18 Screamers
9/18 Korea House
10/18 Korea House
11/18 Kinja
12/18 Hacienda Real
2017
1/17 Carmela's (went to Kinja as Carmela's was closed)
2/17 Misty's in Havelock
3/17 Piedmont Bistro (too loud)
4/17 Parthenon
5/17 The Eatery
6/17 Carmela's
7/17 A St Grata #102
8/17 Carmela's
9/17 Granite City
10/17 La Paz
11/17 Grata
12/17 Issara
2016
7/16 Venue
8/16 Carmela's
9/16 Fuji's (closed) went to Marcia's
10/16 Asian Fusion
11/16 Daffodil
12/16 Tanners