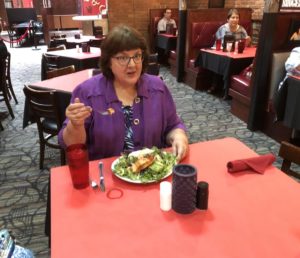 The Ladies' Lunch Group meets the third Tuesday of most months for lunch and talk — and the chance to eat at a variety of restaurants. (Check out the list below!)
There were six of us at Ginger Grill on May 21 and we decided to eat there
again on Tuesday, June 18 at 12:00 noon.
Ginger Grill is located at 6055 Apple Way.


---
We've visited a lot of places in the last couple of years:
2019
1/15 Imperial Palace
2/19 Kinja Sushi & Japanese Cuisine
3/19 The Parthenon
4/19 Le Quartier
5/19 Ginger Grill
2018
1/18 Carmela's
2/18 Grata
3/18 LaPaz
4/18 Char Grille in Hickman
5/18 Hiro 88
6/18 Egg and I Downtown
7/18 Issara
8/18 Screamers
9/18 Korea House
10/16 Korea House
11/20 Kinja
12/18 Hacienda Real
2017
1/17 Carmela's (went to Kinja as Carmela's was closed)
2/17 Misty's in Havelock
3/17 Piedmont Bistro (too loud)
4/17 Parthenon
5/17 The Eatery
6/17 Carmela's
7/17 A St Grata #102
8/17 Carmela's
9/17 Granite City
10/17 la Paz
11/17 Grata
12/17 Issara
2016
7/16 Venue
8/16 Carmela's
9/16 Fuji's (closed) went to Marcia's
10/16 Asian Fusion
11/16 Daffodil
12/16 Tanners