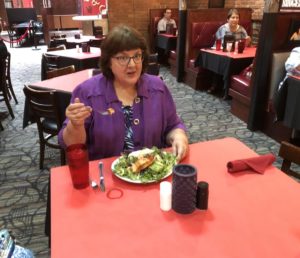 The Ladies' Lunch Group meets the third Tuesday of most months for lunch and talk — and the chance to eat at a variety of restaurants. (Check out the list below!)
There were four of us at the January gathering at Imperial Palace. It's a nice place with large portions.
We will meet again on Tuesday, February 19th at 12:00 noon at Kinja Sushi
and Japanese Cuisine, 4141 Pioneer Woods Drive, Unit 120.

---
We've visited a lot of places in the last couple of years:
2019
1/15 Imperial Palace
2/19 Kinja Sushi & Japanese Cuisine
2018
1/18 Carmela's
2/18 Grata
3/18 LaPaz
4/18 Char Grille in Hickman
5/18 Hiro 88
6/18 Egg and I Downtown
7/18 Issara
8/18 Screamers
9/18 Korea House
10/16 Korea House
11/20 Kinja
12/18 Hacienda Real
2017
1/17 Carmela's (went to Kinja as Carmela's was closed)
2/17 Misty's in Havelock
3/17 Piedmont Bistro (too loud)
4/17 Parthenon
5/17 The Eatery
6/17 Carmela's
7/17 A St Grata #102
8/17 Carmela's
9/17 Granite City
10/17 la Paz
11/17 Grata
12/17 Issara
2016
7/16 Venue
8/16 Carmela's
9/16 Fuji's (closed) went to Marcia's
10/16 Asian Fusion
11/16 Daffodil
12/16 Tanners