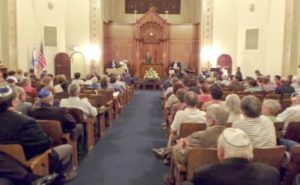 Shabbat Worship schedule
Friday evening services begin at 6:30 PM and are followed by Oneg Shabbat in the social hall. (Sorry, no childcare provided.)
Saturday morning services are at 9:30 AM. (Again, no childcare.)
We also offer Torah Study at 10:30 AM on Saturday mornings.
First Friday Family Shabbat
On the first Friday of every month, we hold a special Family Shabbat service, with blessings for those with upcoming birthdays and other simcha.  On select Shabbats, an informal Family Dinner follows the service. For more information and scheduling, please check our calendar.
Friday Night Live
One Shabbat each month, our Temple band, the Star City Kochavim accompanies our regular service with a contemporary Klezmer sound. The music and prayers flow from one to the next tied together by stories and lessons from our tradition making our Shabbat service an integrated and lively sermon in song. Check our calendar for these dates.
We do on occasion hold services at different times for holidays or special events. For these, and to find dates and times for Jewish Holidays and life cycle events, please look at our calendar.